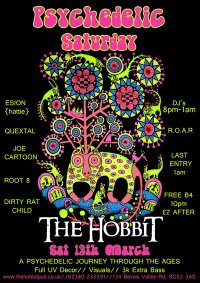 Bit of gig news for you. This Saturday you can catch Quextal on another visit to the hallowed halls of The Hobbit in Southampton for Psychedelic Saturday. Not exactly sure what genre(s) I'll be playing yet, but it's a fairly safe bet that psybreaks will be in there prominently… nor am I sure what time I'm on, but I advise getting down early anyway because it's free entry before 10pm!
The other little bit of gig news is that I've been booked to play at this year's Glade Festival. I'll be in the PsyMusic tent, which was consistently one of the best stages last year and I understand is going to be larger this year. Having been to almost every Glade as a punter, I'm vibrating with excitement at the chance to spin some tunes there – thanks to the PsyMusic crew for making it happen, and I hope to see loads of you there 🙂
Categories: Gigs, News // Tags: festival, glade, psychedelic saturday, southampton, the hobbit
No comments on this post yet... why not click here to give us your feedback?