My "remix" of Digital Breaks Foundation's "Going Back", my first released tune, comes out on VIM records today (VIMBREAKS107).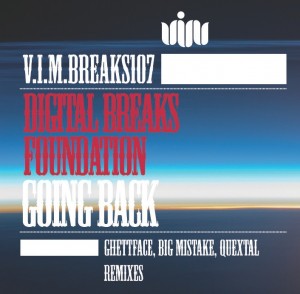 In case you haven't heard it, this is what it sounds like:
DBF – Going Back (Quextal remix) [PREVIEW] by Quextal
And here's where you buy it on Beatport.
I'd really appreciate your help in spreading the word about this. Share the links, tell your friends, whore me out. Being my first release, my name is not well known: people are only going to find this tune by serendipity, or by people like you kindly telling them about it. So you'd be doing them a favour! 🙂
It's been a long road getting this out of the door… manifest thanks to everyone who helped it into the world, especially Greg (VIM) for signing me up in the first place, Adam (Re:Creation) for the great mastering, John Snook for the session at his when I was stuck without monitors, Deirdre and Mike for important moral support, and everyone else who provided feedback and encouragement.
This is just the beginning…
Categories: Tunes // Tags: dbf, digital breaks foundation, going back, quextal, remix, VIM
No comments on this post yet... why not click here to give us your feedback?